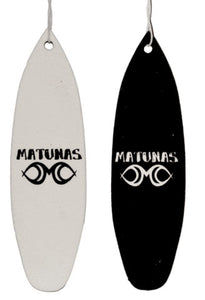 Bring that classic surf wax scent to your car, boat, office or anywhere else you want to relive those summer days at the beach.
Matunas Organic Coconut Air Fresheners are a fun surfboard shape, handmade from recycled paper scented with real organic coconuts. What could be better?
These air fresheners are fun, funky and smell great! Colour: Black one side and white the other, with Matunas surf wax logo.  Packaged in recycled plastic packaging.
Free Shipping Australia Wide