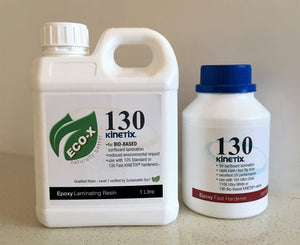 The R130 has been especially formulated to give surfboard manufacturers the unique opportunity to make the clearest and whitest boards possible on the market. The R130 uses a custom designed UV Optical brighter and create superior whiteness and the highest levels of UV stability. The resin is significantly brighter in the sun and under shop lights. The R130 has a high resistance to Yellowing and is formulated to prevent the effects of UV and time discoloration. 
This superior formula will extend the value of a surfboard, as the prevention of yellowing will allow the board to retain its value and provide ultimate customer satisfaction. 
The Superior Strength of the Kinetix Surfboard Epoxy System is constructed to extend the longevity of use and match the need for longer lasting boards as the standard of surfing increases. The R130 offers superior strength to conventional epoxy systems on the market, allowing manufactures to sell their boards with confidence. Features:
Ultra White

Mixes and blends with Rein Tints and Pigments

Rapid Room Temperature Cure 

Bloom-Free Finish 

Excellent Adhesion to Polyester Filler Coats 

Solvent Free 
Made in Australia
Uses: Surfboard lamination EPS/polystyrene or polyurethane foam.
Kit Sizes: 3L & 6L  
Mix Ratio: Part A 57g : Part B 43g
Bio content when cured: 20%
Pot Life: 15 minutes (100g @25C)